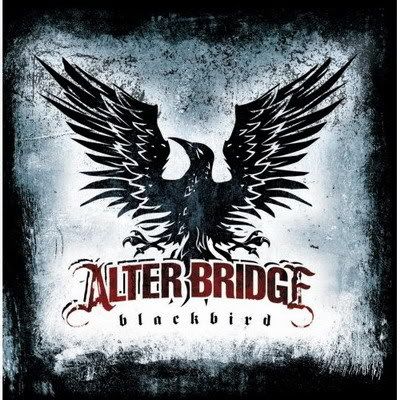 Se pare ca inceputul anului 2008 e perioada de recuperare a albumelor pe care le-am ratat in 2007. In aceasta categorie intra albumul
Blackbird
al trupei
Alter Bridge
, noua varianta Creed fara vocalistul Scott Stapp. Creed e unul dintre cele mai mari nume ale rockului american din ultimii 15 ani, desi sunt sigur ca rockerului roman nu ii spune mare lucru. Si nu ma gandesc neaparat la cele peste 24 de milioane de albume vandute, ci la valoarea propriu-zisa a celor trei produse de exceptie:
My Own Prison
,
Human Clay
si
Weathered
. Creed a mizat pe combinarea mostenirii grunge (ca sa nu zic direct Pearl Jam) cu hard rockul american si pe promovarea unui mesaj crestin de fatada, avand in vedere multiplele derapaje ale lui Scott Stapp ajunse in atentia opiniei publice. Dupa destramarea trupei Creed, Scott Stapp a ales cariera solo si a scos albumul
The Great Divide
, inspirat din filmul
The Passion Of The Christ
, in timp ce cazierul sau s-a imbogatit simtitor. Mark Tremonti, Scott Phillips si Brian Marshall (membru Creed in perioada 1995 - 2000), impreuna cu vocalistul Myles Kennedy au format
Alter Bridge
si au ajuns la punctul maxim al carierei lor muzicale cu
Blackbird
, al doilea album dupa debutul ezitant cu
One Day Remains
. Fazele post-grunge de tip Creed s-au diluat si avem de a face cu un hard rock energic. Myles Kennedy l-a ingropat de viu pe Scott Stapp si fiti siguri ca nu o sa invie peste trei zile:
Buried Alive
!